Description
Details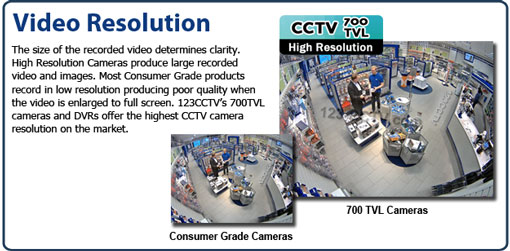 With the 300ft Infrared PTZ Camera with 23X Zoom you really get the best Pan Tilt Zoom camera possible. You get optical zoom with PTZ capability and infrared night vision all in one ruggid camera. This 23X Optical Zoom and 12X Digital Zoom Speed Dome Camera has a unique infrared LED combination. It will use one set of infrared LEDs for close range viewing with a wide field of view, and another set of Infrared LEDs for long distance viewing that can see up to 300 feet in complete darkness. Let's not forget the image sensor: this camera contains a SONY 1/4 inch Super HAD II CCD with the new SONY Effio Image Processor to provide 600 TV Lines of Resolution in Color, and 700 TV Lines of Resolution in black & white mode at night when the infrared LEDs turn on.
This PTZ723IR Infrared Pan Tilt Zoom Camera is compatible with any DVR or PTZ controller that is PELCO D compatible. It also features a special protocol made specifically for our DVRs, which allows you to use our unique 3D positioning feature where, using your mouse, you can simply draw a box around any point of interest in your video and the PTZ will automatically zoom in and center on that point of interest. It just doesn't get any easier than that. This same protocol makes it super-easy to set patterns and tours on the camera using our DVRs compared to traditional PTZ cameras.
This PTZ has a high quality powder coat finish that is sure to last for years and is also lightning and surge proof. It is IP67 rated, meaning you can use it indoors or outdoors and in almost any weather, and temperature range of -40 degrees F to 140 degrees F.
If you are looking for a high quality PTZ that can see at night with no supplemental lighting, this is the way to go.
Includes:
1x 300ft Infrared Night Vision PTZ Camera 23X Zoom
1x Wall Mount Bracket
1x 24V AC Power Adapter
1x CD with Manual
Additional Info
Reviews