Security DVR Recorders, CCTV DVRs, and NVRs
Feature Highlights of 123 CCTV Security DVRs & NVRs
Remote Viewing
Remote Viewing of live or recorded video from anywhere in the world over the internet with a computer, smartphone, or tablet. We offer free software that allows you to login to the DVR recorder of your security camera system directly and view your cameras without incurring any added monthly charges. You simply need to have an internet connection where the system is installed.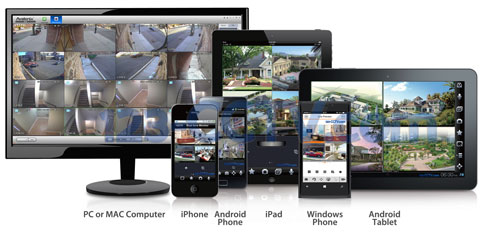 Motion Alerts
When your system detects motion based on changes in video or on trigger of motion alarm sensors tied to your 123 CCTV camera system, you will receive a push alert to your smartphone or tablet. You can even configure the DVR to upload images to a FTP server as backup in case your recorder is stolen during a robbery.

Why buy our DVRs?
At 123CCTV we pride ourselves with being passionate about the cctv products we sell and helping our customers have peace of mind that not only they can keep an eye on their property and loved ones, but also that they have purchased video surveillance equipment from one of the few companies that really cares about people. We stand behind the products we sell, and test every single one before shipping it to our customers. We provide stellar technical support and work tirelessly to create informational videos and articles to help customers understand and use the DVR recorders they purchase from us. With every DVR purchase, we provide free networking support to help customers port forward their router so they can view their cameras remotely from anywhere in the world where an internet connection is available.