Description
Details
8 Camera Security System with 200ft Night Vision 600TVL Cameras and 8 Channel DVR
Amazing deal on a security camera package. This is an outdoor security camera solution featuring top of the line security components. This is the only place you will find such quality products put together in an all-in-one package ready to go for you. We've taken the time to find the best, most affordable security components for our systems.
This DVR comes with a variety of features, all of which are very user friendly for configuring. With this unit you can fully customize recording schedules, resolutions of recording for each camera, and it features fully customizable motion detection areas as well. Using the on-screen display menu, you can easily set which areas of the screen you want motion detection, and which areas you do not. This is especially useful for environmental movement that may cause unwanted triggering of motion detection. Viewing your recorded video is as easy as 123, it has a very user friendly interface, while not compromising advanced features. This DVR also features remote viewing, not only from a web-browser anywhere with an internet connection, but from Smartphones* as well. Imagine being able to pull up your cameras with the ease of opening an app on your Smartphone. Email notification can be set as well, so you will know about an event wherever you are.

Picture this: You are on the go, and you receive an email notification to your Smartphone detecting motion in front of your garage. Immediately you pull up that camera on your Smartphone! It's a false alarm, just a pesky rodent this time, but what about next time?
As for the cameras included in this package... These little bullets pack a punch! Packed inside this thing are 72 high intensity infrared LEDs. This thing is like an infrared spotlight with a camera attached! This means it can see over 200ft in complete darkness. This is the perfect night ops camera. In daytime, it features a color resolution of 600TVL. On top of all these features, this camera has what is called a vari-focal lens. It ranges from 9mm to 22mm, meaning you can manually adjust the zoom length and field of view to get the perfect shot. These cameras are meant to be used in situations where you want to see a person's face at least 10ft from the camera and up to 50ft away. You can manually adjust the zoom on the camera at time of installation to give you the desired field of view.

*Supported Smartphones: Android, iPhone, most Blackberrys, Windows Phone, Symbian
Our DVRs include: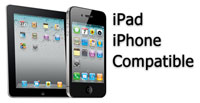 Now Featuring Remote Viewing via iPhone and iPad
DVR Features:
8 Camera Digital Video Recorder
1 Audio input for optional add-on microphone
H.264 hardware codec for the best video image quality in the industry in its price range
Real-time Live Display/Record allows you to have full-motion fluid moving video
Real Time 240 fps recording at CIF Resolution (350x240 pixels) and 60fps recording at D1 Resolution (704x480 pixels)
New Feature - Simultaneous 8 Camera Playback of recorded view at DVR
Includes 500GB Hard Drive for up to 3 weeks of video recording
Selectable recording video quality levels
Triplex operation allows up to 3 tasks to be done on the DVR simultaneously
Allows user to view live video, playback recorded video, record video, backup video, and access over network all at the same time without ever stopping recording
Easy to use DVR menu for operation of the DVR featuring point and click navigation (mouse included)
Independent camera settings customizable for each camera:

Video Loss Alarm
Motion Detection
Notification Settings including trigger of built-in buzzer alarm, or email notification when motion event occurs

Full feature set of controls available when remotely viewing over internet through Internet Explorer or with the include windows viewing software:

View Live Video
Playback recorded video by selecting time of video or logged events of motion detection
Backup video over internet on to PC
Bandwidth Management for slow internet connections so smaller images are displayed faster
Supports up to 10 remote viewers at the same time

Included software allows control of multiple DVRs from one location
RS485 Input allows use of PTZ cameras with this DVR
Dual Video Output:

VGA output at 1280x1024 or 1024x768 Resolution to connect any computer VGA monitor
BNC video output to connect composite connection on a regular TV or CCTV monitor

USB port for video backup to a USB flash drive
Hand Held Remote Control Included
Includes wired optical mouse for easy DVR operation
DVR comes with 500GB Hard Drive for up to 3 weeks of continuous video recording
Camera Features:
Weatherproof Infrared Security Cameras
1/3" Sony CCD Image Sensor
600 TVL Color High Resolution Cameras
72 High Intensity Infrared LEDs for 200ft of night vision
0 Lux Rating with Infrared On
Bracket with pass through cabling to protect cabling from vandalism
IP66 Weatherproof rating to withstand heavy rain, snow, and extreme cold or hot temperatures
9-22mm Manual Zoom Lens to set the camera to the desired zoom length at time of installation
Great for long range viewing, max facial capture distance of 50ft at 22mm Lens setting
Dark Gray Colored Cameras
3 Axis bracket allows for camera mounting on a wall or ceiling, at virtually any angle
What's Included?
1 - 8 Channel DVR with 500GB HDD
8 - 12 Volt DC 1 Amp Power Adaptors
8 - 50 ft Plug and Play Combined Power/Video Cable
1 Year Warranty
Additional Info
Reviews