Description
Details
Amazing deal on a security camera package. This is an outdoor security camera solution featuring top of the line security components. This is the only place you will find such quality products put together in an all-in-one package ready to go for you.
We've taken the time to find the best, most affordable security components for our systems.
This DVR comes with a variety of features, all of which are very user friendly for configuring. With this unit you can fully customize recording schedules, resolutions of recording for each camera, and it features fully customizable motion detection areas as well. Using the on-screen display menu, you can easily set which areas of the screen you want motion detection, and which areas you do not. This is especially useful for environmental movement that may cause unwanted triggering of motion detection. Viewing your recorded video is as easy as 123, it has a very user friendly interface, while not compromising advanced features. This DVR also features remote viewing, not only from a web-browser anywhere with an internet connection, but from select Smartphones* as well. Imagine being able to pull up your cameras with the ease of opening an app on your phone. Email notification can be set as well, so you will know about an event wherever you are.

Picture this: You are on the go, and you receive an email notification to your Smartphone detecting motion in your garage. Immediately you pull up that camera on your Smartphone! It's a false alarm, just a pesky rodent this time, but what about next time?

Now, for the cameras: these cameras are top of the line IR cameras with an unheard of 700TVL. They come with an amazing 2.8-12mm adjustable zoom lens that gives a 90 to 30 degree angle of view, with easy external manual zooming. At night time, this security camera can see an incredible 200 feet thanks to it's 72 IR LEDs. Comes standard with a 3 axis bracket, which is designed to conceal cables.

*Supported Smartphones: iPad, Android, iPhone, Windows Phone, Symbian
Our DVRs include:



Avalonix 700 TVL Resolution Sony Effio-E Technology


Higher horizontal resolution over 650 TVL. Confirmed maximum resolution to achieve true 700 TV Lines of Resolution.

Digital Noise reduction (DNR) is a function that reduces the image noise to improve the image quality of the camera. In particular, it reduces the noise which is generated under low light conditions and other high-gain states.
The Effio-E comes with a space-based Noise Reduction function.

Excellent color reproduction under variety of light sources [1,800K to 10,500K Lumes]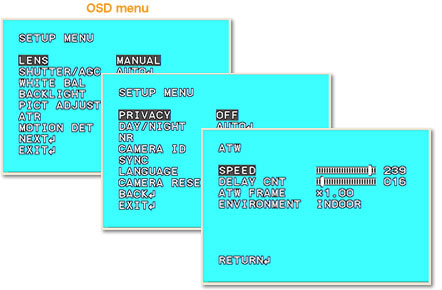 Preset OSD Menu: The "Effio-E" signal processor includes OSD (on-screen display) functions that allow camera settings to be made using the joystick or button controller located on the camera cable or inside the camera.

ATR/ATR-EX: The ATR (Adaptive Tone Reproduction) function provides gradation compensation to improve the contrast of subjects whose gradation has been lost in cases where, for instance, both low-luminance areas and high-luminance areas exist in the same picture.
The ATR function improves the visibility of the entire picture by providing optimum gradation compensation for the image in one field based on the luminance information.
DVR Features:
8 Camera Video and 1 Audio Recorder
H.264 hardware codec for the best video image quality in the industry its price range
Real-time Live Display/Record allows you to have full-motion fluid moving video
Supports remote view over internet using your smart phone, Windows PC, or Apple Computer
Supports iPhone, iPad, Android phones and tablets
Comes with Apps and Software free of charge
Selectable recording video quality levels
High Resolution D1 (704x480pixels) Video Recording
Supports 1 internal SATA hard drive up to 2TB in capacity
Multiplex operation allows you to carry out multiple tasks on the DVR simultaneously
Allows user to view live video, playback recorded video, record video, backup video, and access over network all at the same time without ever stopping recording
Authorization management so only viewer with a username and password can view video
Supports up to 15 user accounts
Easy to use DVR menu featuring point and click navigation (mouse included)
Independent camera settings customizable for each camera:

Video Loss Alarm
Motion Detection
Alarm Settings including trigger of built-in buzzer alarm, log events, and inform via text email

Full feature set of controls (all free of charge) when remotely viewing over internet through Internet Explorer or with the included viewing software for Windows PC:

View Live Video from all 8 cameras in a grid or each camera individually
Playback recorded video from all 4 cameras in a grid or each camera individually by selecting time of video or logged events of motion detection
Backup video segments over internet on to PC
Bandwidth Management for slow internet connections so smaller images are displayed faster
Supports up to 5 remote viewers at the same time
Email alert when motion is sensed or alarm is triggered (text based email)

Included software allows control of multiple DVRs from one location
Dynamic IP address supported thanks to built in dynamic dns server
Video Output:

High Def VGA output at 1024x768 or 1280x1024 Resolution to connect any computer VGA monitor
BNC video output to connect regular TV (switch between the two)
Spot out

USB port for easy video backup to a USB flash drive
Selectable automatic video overwrite function lets you decide if you want to record over oldest video first when hard drive is filled up
Hand Held Remote Control Included
USB Optical mouse included
Camera Features:
Weatherproof Infrared Color Security Camera
Day and Night Camera with 0.001 Lux that can see in color in very low light
72 High Intensity Infrared LEDs for 200ft of Night Vision
1/3" Sony CCD Image Sensor with SONY EFFIO-E image processor
True 700 TVL Resolution Camera
Digital Noise Reduction Technology to provide clear video
ATR image processing to clear up darker areas in the video
0 Lux Rating with Infrared On
IP66 Weatherproof rating to withstand heavy rain, snow, and extreme cold or hot temperatures
2.8 to 12mm Manual Zoom Lens to set the camera to the desired zoom length at time of installation
3 Axis Bracket to mount and position the camera at virtually any angle on a ceiling or wall
Bracket with pass through cabling to protect cabling from vandalism
Dark Gray Colored Camera
Camera Cable has joystick to control the On Screen Display Menu to set various camera settings
What's Included?
1 - 8 Channel DVR with 500GB HDD
8 - 12 Volt DC 1Amp Power Supply
8 - 50 ft Plug and Play Power/Video Siamese Cable
Additional Info
Reviews