Description
Details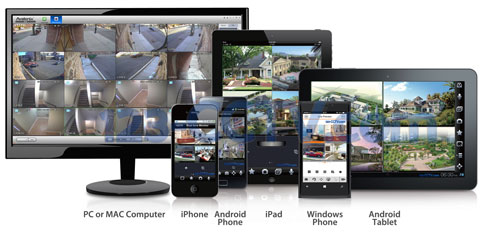 The 32 Camera Enterprise DVR has been upgraded as of March 2016 to offer recording capability up to 1080P resolution when used with our Easy HD security cameras or IP cameras. At resolutions up to 720P you can expect recording in Real Time 30fps per camera (total 960fps). At 1080P resolution, you can expect to record at half real-time that is 15fps per camera, for a total of 480fps. What this means is that you can bring new life to your existing camera system by easily upgrading old analog cameras using Coax cabling to 1080P by using our HD over coax cameras. You can mix and match camera resolutions and camera types to build a system suiting your needs.
The DVR chassis is a 2U rackmountable case, making it suitable for a IT closet with a rack server case, or you can simply place on a flat surface such a shelf.
The 32 Channel Tribrid DVR also allows you to select the resolution you would like to record for each camera independently, and set motion recording and privacy masking. You can also set highly customized recording schedules for each channel based on your own preferences. The customizing options are limitless. To conserve hard drive recording time and provide recording flexibility
The DVR uses the latest H.264 video compression technology that records great quality video as efficiently as possible in this day in age. This CCTV DVR recorder also offers PTZ control of compatible EasyHD PTZ cameras using Video/PTZ Data communication over the same coax wire, eliminating the need to run an extra lead pair for RS485. It has two-way audio streaming where you can connect a microphone and speaker to the audio channels of audio and it will record audio over camera #1. There are 16 audio inputs that allow you to tie in a security camera microphone.
Backing up video is also very easy. You can backup to a USB drive or over the network to a computer. There is also free remote viewing over the internet using a PC/Apple computer or smartphone or tablet with our free app.
This High Definition 32 Camera DVR supports up to eight 6TB hard drives for a total of 48TB of storage, and you can select the suitable hard drive size above for your security needs.
If you need help, you get free tech support with every purchase for the item purchased.
Features:
32 Channel HD over coax security camera inputs
1080P, 720P, 960H, D1 Recording Resolutions
H.264 Video Encoding – Maximize recording time and reduce file size
1080P Resolution 1-15fps per camera
720P/960H/D1 Resolution 1-30fps per camera
Accepts up to 1080P IP cameras by 123CCTV
Total IP bandwidth up to 40mbps
Add IP cameras by converting last 10 channels to IP
Two HDMI Outputs for viewing on HDTV and secondary TV for matrix out
Support up to 8 hard drives for a total 48TB storage capacity
Free iPhone, iPad, Android App – View your video remotely from anywhere in the world as long as the DVR is connected to the internet
Several Recording Modes:

Continuous 24/7 Recording
Schedule recording - record only at certain times and days
Motion detection - record only when the motion is detected in the video analyzed by the DVR
External Alarm Activated Recording

Automated push alerts to your mobile phone when motion occurs
Automatic hard drive overwrite to recycle over the oldest recorded video first
Connectors on this security DVR include:
(32) BNC video inputs
(16) BNC audio input
(1) BNC audio output
(1) VGA video output
(2) HDMI video/audio output
(3) USB ports
(1) RS485 Port
(1) Alarm input/output block
(1) RJ45 Ethernet
Includes:
1x 32 Channel Enterprise DVR
1x Power Cord
1x Software, Manual CD
1x Mouse
1x Remote control
1x Rackmount Ears
8x SATA Cables
Hard Drive mounting screws
Specifications:
| | |
| --- | --- |
| Video Inputs | 32 Channels |
| Video Outputs | 1x VGA, 1x HDMI Main, 1x HDMI Spot |
| Audio Inputs | 16 |
| Audio Outputs | 1 |
| Recording Speed | 1080P (1-15fps), 720p/960H/D1/HD1/2CIF/CIF (1-30fps) |
| Resolution | 1080P (1920x1080P), 720p (1280x720), D1 (704x480) |
| Frame Rate Max | 960fps |
| Drive Capacity: | 8 SATA up to 48TB |
| Ethernet Ports | 1 |
| e-SATA: | none |
| Internal DVD Burner Support | Yes |
| Smart Phone Access/Push Notification | Yes |
| Motion Activated Recording | Yes |
| PTZ Control | Yes |
| Simultaneous Remote Users | 10 |
**We do our best to remotely assist our customers in configuring their computer network for remote DVR viewing. However, we cannot be responsible for complex network configurations or the performance of your internet connection. We recommend that you have a broadband connection such as a DSL or Cable modem, or faster. We do not recommend using Cellular data based network devices and dish internet at the location of your DVR, since these service providers block the DVR from accepting connections to view footage over the internet.
Additional Info
Reviews
Customer Reviews
Unbeatable value and performance

Review by

Diego Rivera

I chose to purchase this DVR for our PD and I am glad that I made the right decision. This DVR beat our Samsung and Nuvvico DVRs in the feature set offered on this unit, and how easy it is to use. We have been using this DVR for over a year now and it has not had any hiccups. With other DVRs we experienced issues with missing video and weird frame jumping and unexplained restarts, this DVRULT32S from 123CCTV has not had any such issues. The video is good quality and very clear. We are certainly able to record the D1 resolution at real time on all our cameras. The web view over internet explorer is great. I just wished it allowed viewing over chrome , and it does using the activex plug in for chrome, but you can't beat the native internet explorer design. What impressed me most was that over the web view I was able to playback 16 cameras at a time, and I haven't seen this in any cctv recorder yet.

Also I don't want to forget to mention how helpful the ttech team at 123-cctv.com was. I needed networking help and they were prompt and were able to help me get this unit connected on our very complex network. Thanks guys!

I will surely come back to by a lot more equipment once it gets approved in the budget. (Posted on

3/5/14

)