Description
Details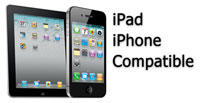 Our Pro Full HD Series DVR features embedded Linux OS, remote monitoring from anywhere in the world, audio recording and H.264 compression. This is NOT a PC based DVR which is subject to viruses and hacking. This is a standalone unit built for only one purpose - the best quality video surveillance in the world.
The Pro Full HD Series DVR is the state-of-the-art in digital surveillance technology. This DVR features professional grade components and is manufactured to industrial standards. Its advanced functionality makes this one of the best standalone systems on the market today.


This unit is all about versatility. With VGA and BNC Video outputs, you can operate this DVR on either a Comptuer LCD monitor or TV. It is really easy to hook up a big screen TV with ease. And with the 720p high-definition output, your images will be crystal clear.




The Pro Full HD Series utilizes H.264 hardware compression to bring you great quality video while maximizing your hard disk storage capacity.. This DVR brings you the maximum in recording versatility by being able to record D1 Resolution on all channels at 30fps per camera. This allows you to capture a higher level of detail for a cash register, license plate, or anywhere that demands the highest video resolution available.



The Pro Full HD Series DVR is amazingly simple to setup and operate. An intuitive mouse-driven interface provides very simple point-and-click control over all functions and settings. In addition, the unit also includes an IR remote control. The front panel controls can be used to easily fast forward, rewind, and advance frame by frame. Up to 4 Channels can be played back at the same time at the DVR, and 4 Channels can be played back via the web interface or client software.




The built-in Web server allows you to perform most every function of the DVR remotely with Internet Explorer. Client software is also included to allow you to centrally monitor multiple Pro Full HD Series units simultaneously. Two-way audio over the network or Internet is also standard on the Pro Full HD Series. So, not only can you hear what is going on, you can interact. This DVR supports up to 10 simultaneous network or Internet users on both PC and Mac. With Dynamic DNS support, it is not necessary to have a static IP address on your network in order to remotely access this DVR. This saves you money, as most ISPs charge extra for a static IP address.


Having the ability to remotely view your system is great, but what if you are on the road and just can't monitor your system all the time. This is no problem with the Pro Full HD Series DVRs highly flexible email capability. Just set up a standard POP email account and have the system email you anywhere based on any criteria you choose. Many of our customers have emails sent to their cell phone for real time alerts. You choose email triggers that you want, and the DVR does the rest.



This unit only supports one SATA hard disk drive, but with up to 2TB SATA hard drives available, this is no longer a limitation. Also, due to the compact form factor of this unit, it is not capable of supporting a DVD burner internally. However, video can be backed up to a USB thumb drive for safe keeping or in the event that you must give the footage to the police. Video can also be saved right on your PC for easy access. FTP backup and recording functionality ensures your video is safe even if the DVR is destroyed.


The easy 3D mouse operated PTZ control allows you to control any PTZ camera. Just click on the screen and drag your mouse around. The PTZ camera follows the mouse pointer so you can smoothly and accurately follow any objects of interest.




This system runs on a rock solid Linux embedded OS, with embedded web server, and digital signal processors to bring you the most powerful network-based digital video recorder available. This high end system will provide you with everything you need other than a monitor. If you tie the system into your network, you wont even need a monitor to view your DVR.
And don't forget that we provide support for every step of your installation project.
**We do our best to remotely assist our customers in configuring their computer network for remote DVR viewing. However, we cannot be responsible for complex network configurations or the performance of your internet connection. We recommend that you have a broadband connection such as a DSL or Cable modem, or faster. We do not recommend using Cellular data based network devices and dish internet at the location of your DVR, since these service providers block the DVR from accepting connections to view footage over the internet.
Additional Info
Reviews