Description
Details
High quality security system that is completely plug and play ready. Ease of use is streamlined with a huge variety of features to make this a very attractive surveillance solution. This Security Camera System will outshine any other camera systems you can find in this price range.
On the DVR end of this camera system, you'll find a brand new high resolution DVR that truly exceeds expectations of today's DVR units. Featuring a brand new user interface, this DVR delivers easy to use menus, and it's amazing timeline video search feature. No more confusing searching through hours of video footage. With this new timeline feature, you can easily pinpoint events quickly. This DVR comes with a 250GB Hard Drive pre installed and formatted for your convenience allowing for about 3 weeks of continuous recording for all eight cameras. Motion detection is another important feature on this DVR. It features sensitivity options, scheduling, and even motion-masking if you have an area that is triggering your motion too often. On top of motion scheduling, you can schedule this DVR to manually record all the time when you need it to. This DVR also features remote viewing not only from a PC, but from most Smartphones as well.
On the Camera side of this system, you will not be disappointed. If you are looking for a camera that can see past all other cameras, look no further! This professional camera features a 5-50mm manually adjustable lens allowing for facial recognition up to 100ft away! This is IMPOSSIBLE with standard cameras within the 2.8-22mm range. These are the best of the best with a resolution of 700TVL! You will not find a camera with a higher resolution. The DVR and Cameras complement each other in the astounding resolutions they are capable of. These are very high quality cameras made of metal with a Sony Effio-E image sensors. They will withstand the harshness of weather no problem. These are very versatile and work well in an indoor or outdoor environment.
Our DVRs include:



Avalonix 700 TVL Resolution Sony Effio-E Technology


Higher horizontal resolution over 650 TVL. Confirmed maximum resolution to achieve true 700 TV Lines of Resolution.

Digital Noise reduction (DNR) is a function that reduces the image noise to improve the image quality of the camera. In particular, it reduces the noise which is generated under low light conditions and other high-gain states.
The Effio-E comes with a space-based Noise Reduction function.

Excellent color reproduction under variety of light sources [1,800K to 10,500K Lumes]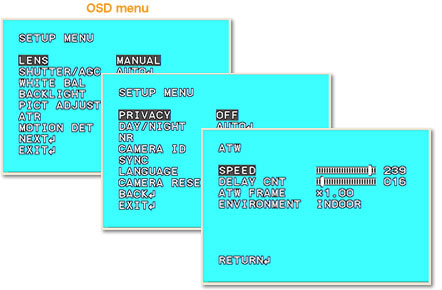 Preset OSD Menu: The "Effio-E" signal processor includes OSD (on-screen display) functions that allow camera settings to be made using the joystick or button controller located on the camera cable or inside the camera.

ATR/ATR-EX: The ATR (Adaptive Tone Reproduction) function provides gradation compensation to improve the contrast of subjects whose gradation has been lost in cases where, for instance, both low-luminance areas and high-luminance areas exist in the same picture.
The ATR function improves the visibility of the entire picture by providing optimum gradation compensation for the image in one field based on the luminance information.

All necessary wiring and connectors you need are included in this system for you, and it is plug and play ready!
DVR Features:
4 Camera Video and 1 Audio Recorder
H.264 hardware codec for the best video image quality in the industry in its price range
Timeline search feature
Real-time Live Display/Record allows you to have full-motion fluid moving video
Triplex operation allows up to 3 tasks to be done on the DVR simultaneously
Allows user to view live video, playback recorded video, record video, backup video, and access over network all at the same time without ever stopping recording
Easy to use DVR menu for operation of the DVR featuring point and click navigation (mouse included)
Independent camera settings customizable for each camera:

Video Loss Alarm
Motion Detection
Alarm Settings including trigger of built-in buzzer alarm, log events, and inform via email

Full feature set of controls available when remotely viewing over internet through Internet Explorer or with the include windows viewing software:

View Live Video
Playback recorded video by selecting time of video or logged events of motion detection
Backup video over internet on to PC
Bandwidth Management for slow internet connections so smaller images are displayed faster
Support up to 5 remote viewers at the same time

Included software allows control of up to 4 DVRs from one location
VGA Video Output:

VGA output at 1280x1024 or 1024x768 Resolution to connect any computer VGA monitor

USB port for video backup to a USB flash drive
Hand Held Remote Control Included
DVR comes with 250GB Hard Drive for up to 3 weeks of continuous video recording
Camera Features:
1/3inch Sony ExView CCD
Sony Effio Digital Signal Processor
700 TV Lines Resolution
ELC AGC AWB
84 IR LEDs, 0 Lux
Night vision distance: 200ft
5-50mm Manual Zoom Vari-Focal Lens
IP66 Weatherproof rating to withstand heavy rain, snow, and extreme cold or hot temperatures
12V DC 800mA Power required
BNC Video Output
3 Axis Bracket to mount and position the camera at virtually any angle on a ceiling or wall
Bracket with pass through cabling to protect cabling from vandalism
Camera cable has a joystick for control of On screen display menu for various image adjustments
What's Included?
Additional Info
Reviews
Customer Reviews
Great cameras

Review by

Henry

This package comes with four of the best cameras I have ever used. The 5-50mm lens lets me identify a person's face so much farther away than with my old cameras. Definitely worth the extra few bucks.

(Posted on

3/4/14

)