Description
Details
This Black and White spy camera hidden in a light bulb is a great solution for those who are looking for a hidden camera solution for their house where wireless hidden cameras can't be used. This hidden light bulb camera can be plugged in to any light bulb fixture and lets you carry the video signal over your electrical lines in the home to a nearby vcr or dvr in another room on the same electrical circuit. It comes with a decoder that you plug in to the electrical socket near your recorder that decodes the signal from the electrical line to a standard RCA video signal. You can use this light bulb for outdoor or indoor applications.
It is really easy to use and gets rid of all the wires and power cords needed for most hidden cameras. All you have to do is screw the light bulb in to any fixture and plug the decoder into an electrical socket in your home on the same electrical circuit. The camera inside the bulb gets its power from the bulb socket itself. This spy camera features infrared night vision up to 10ft so it can see in complete darkness, and has a 80 degree angle of view.
Keep in mind the bulb does not turn on. It is not a functioning light bulb. Its size is approximately 5 1/4" x 5".
Specifications:

Non functioning light bulb
Requires regular 110V AC power from a regular light bulb socket
Black and White CCD Image sensor with low light sensitivity
0 Lux with infrared enhanced night vision
6 IR LEDs for up to 10 feet of night vision
80 degree field of view
NTSC Video for North America
IRFS power line video transmission system carries video over power lines
Includes:
Light Bulb Camera
Power Lines Video Decoder
RCA Cable
Instructions
Illustration of video transmission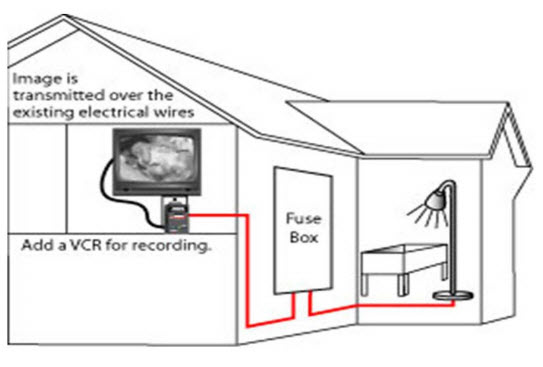 Additional Info
Reviews