Description
Details
Upgrading to HD security cameras just got easier thanks to our team at 123CCTV. It is now possible to use existing RG59 or higher quality coax wiring and run HD CCTV video signals up to 1080p for less than half the cost of IP cameras. You can even run the HD video signal up to 1640ft over a good quality RG59 cable.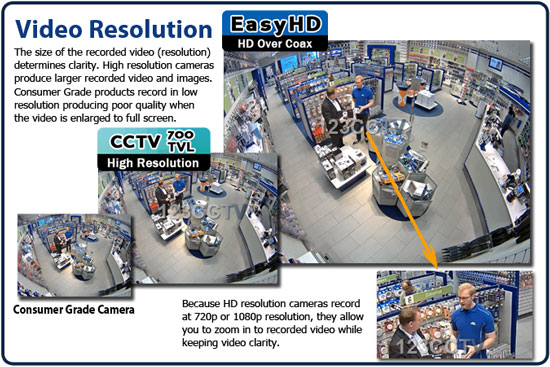 The 4 Channel EasyHD H.264 Security DVR with HDMI output offers up to 1080p high definition live viewing with 80% more detail than standard D1 resolution CCTV DVRs.
The digital video recorder is able to record all 4 cameras in Real Time at 720p resolution at 30 frames per second (fps) per camera without ever skipping a beat, and 1080P at 60fps. This EasyHD DVR also offers user selectable resolution levels all the way down to CIF, just in case the user decides to conserver disk space from unimportant cameras. To conserve hard drive recording time and provide recording flexibility, the DVR includes H.264 video compression that records great quality video as efficiently as possible in this day in age. It also has built-in motion detection and scheduled recording modes to let the user decide when the DVR should start recording. The DVR recorder also offers PTZ control of compatible EasyHD PTZ cameras using Video/PTZ Data communication over the same coax wire, eliminating the need to run an extra lead pair for RS485. It has two-way audio streaming where you can connect a microphone and speaker to the one channel of audio and it will record audio over camera #1.
Most important, it features easy video backup to a USB drive or over the network/internet to a computer, and free remote viewing over the internet using a PC/Apple computer or smartphone / tablet with a free iOS/Android app.
This High Definition CCTV DVR supports up to a 4TB hard drive for many hours of storage, and you can select the suitable hard drive size above for your security needs.
Remember, if you need help, you get free tech support with every purchase for the item purchased.
Features:
Supports 720P and 1080P HD over Coax Cameras
View and record high definition security camera video
Real Time Live View and Recording
720P 120fps
1080P 60fps
HDMI Output – View video with the great image clarity
Free iPhone, iPad, Android App – View your video remotely from anywhere in the world as long as the DVR is connected to the internet
H.264 Video Compression – Maximize recording time and reduce file size
Several Recording Modes:

Continuous 24/7 Recording
Schedule recording - record only at certain times and days
Motion detection - record only when the motion is detected in the video analyzed by the DVR

Automated push alerts to your mobile phone when motion occurs
Automatic hard drive overwrite to recycle over the oldest recorded video first
Connectors on this security DVR include:
(4) BNC video inputs
(1) RCA audio input
(1) RCA audio output
(1) VGA video output
(1) HDMI video/audio output
(2) USB ports
(1) RS485 port
(1) RJ45 Ethernet
Includes:
USB mouse
CD with manual and software
Please make sure you use only a EasyHD or HDCVI camera with this DVR.
Specifications:
| | |
| --- | --- |
| Video Inputs | 4 Channels |
| Video Outputs | 1x VGA, 1x HDMI |
| Audio Inputs | 1 |
| Audio Outputs | 1 |
| Recording Speed | 1080P (1-15fps), 720p/960H/D1/HD1/2CIF/CIF (1-30fps) |
| Resolution | 1080P (1920x1080) / 720p (1280x720) / D1 (704x480) |
| Drive Capacity: | 1 SATA up to 4TB |
| Ethernet Ports | 1 |
| Internal DVD Burner Support | No |
| Smart Phone Access/Push Notification | Yes |
| Motion Activated Recording | Yes |
| PTZ Control | Yes |
| Simultaneous Remote Users | 10 |
Additional Info
Reviews