HDCVI - What is HDCVI video?
High Definition Composite Video Interface, or more commonly referred to as HDCVI, is a type of high definition CCTV. While it shares some similar aspects, HDCVI is a type of its own. Offering much more affordable HD security cameras and digital video recorders (DVR), HDCVI is absolutely something worth looking into.
Cable Runs
The cable runs for HDCVI cameras is the first thing worth mentioning. Most HD cameras, whether they're HDSDI or IP, are limited to about 300 foot runs without adding additional hardware. The HDCVI cameras can transmit video up to approximately 1600 feet over solid copper coaxial cable (RG59/U). For those people needing those longer cable runs, you won't have to worry about purchasing anything in addition to your cable and will not longer have to worry about the expense of needing to go wireless.
Resolution
HDCVI cameras are currently offered in two resolutions; 1.3 megapixels and 2 megapixels. This translates easier to most of us as 720p and 1080p. In most cases, those looking into HD systems are upgrading from their current analog CCTV system. Even at the lower resolution (720p), there is a substantial increase in video quality. There really is no comparison even between the highest resolution analog cameras to the lowest resolution HDCVI cameras.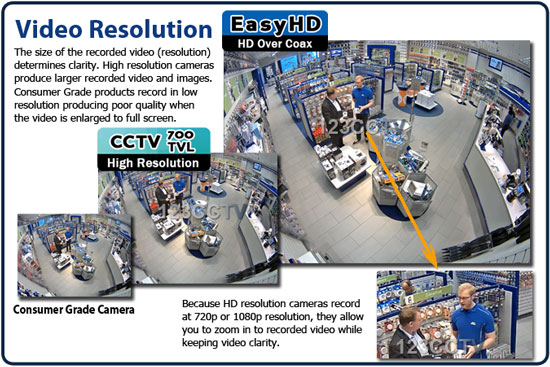 Not Sold Yet?
There is another very large advantage to HDCVI over analog and HDSDI and analog. Not only is video transmitted over coax, but so are audio and data. This means not having to run separate cable for these features. Traditionally, Pan Tilt Zoom (PTZ) always needed an extra cable for data in order to control the pan tilt zoom function. That extra hassle no longer exists with HDCVI.
HDCVI over HDTVI
HDTVI was developed by HIKVISION solely to compete with cost effective Megapixel CCTV products (i.e. - HDCVI). As of the date this article was written, HDTVI products have yet to come out in the market as finished products for sale. Considering that HDTVI is an emerging product line, and it creates another fork in the road for megapixel CCTV video over coax; this will turn out to be a HD DVD vs. Blu-ray situation. It may be that HDTVI will target the home consumer market for low cost products to garner market share.
HDCVI has one of the largest R&D departments behind its development that has a track record of producing very reliable DVRs, NVRs and IP cameras at a cost well below that of large brand names like ACTi, Axis, etc. HDCVI cameras, HDCVI DVRs, and their original equipment manufacturer (OEM) chips have already disseminated through the supply chain in factories and proved themselves to be a cost effective solution for 720p and 1080p CCTV video. Considering their cost is comparable to what SONY Effio 700TVL analog cameras used to cost not too long ago, we give it a big thumbs up.